Moving​ ​day​ ​comes​ ​with​ ​a​ ​lot​ ​to​ ​think​ ​about,​ ​and​ ​preparing​ ​your​ ​entire​ ​household​ ​can​ ​be overwhelming​ ​if​ ​you​ ​don't​ ​have​ ​a​ ​solid​ ​plan.​ ​Selling​ ​your​ ​home​ ​is​ ​only​ ​part​ ​of​ ​it;​ ​there's​ ​also packing,​ ​cleaning,​ ​getting​ ​the​ ​new​ ​home​ ​ready,​ ​hiring​ ​movers,​ ​looking​ ​for​ ​the​ ​best​ ​schools​ ​for your​ ​children​ ​and​ ​getting​ ​them​ ​enrolled,​ ​and​ ​finding​ ​out​ ​where​ ​the​ ​nearest​ ​supermarket,​ ​doctor's office,​ ​and​ ​restaurants​ ​are​ ​in​ ​your​ ​new​ ​neighborhood.​ ​For​ ​pet​ ​owners,​ ​moving​ ​also​ ​comes​ ​with potential​ ​anxiety​ ​issues​ ​for​ ​the​ ​pets,​ ​as​ ​many​ ​animals​ ​aren't​ ​sure​ ​how​ ​to​ ​deal​ ​with​ ​such​ ​a​ ​big change.

This​ ​infographic​ ​will​ ​give​ ​you​ ​some​ ​simple​ ​ways​ ​you​ ​can​ ​make​ ​things​ ​easier​ ​for​ ​your​ ​pet.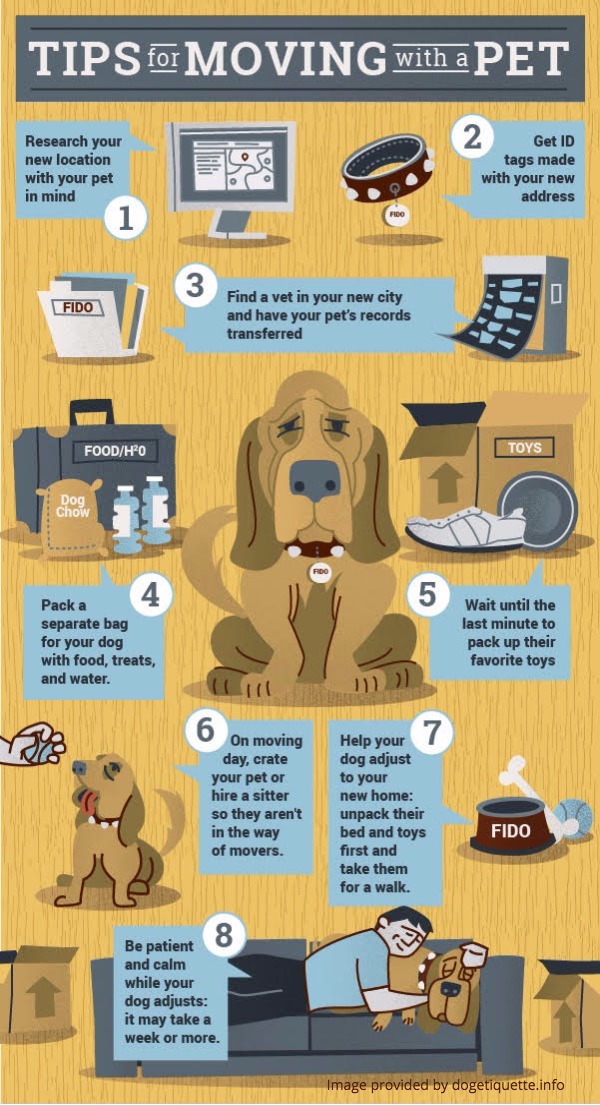 For more information:
1.Visit http://bringfido.com to find pet friendly establishments
2.Visit http://petco.com to order new ID tags
3.Visit http://yelp.com to read vet reviews
4.Visit http://humanesociety.org for help with packing a travel bag for your dog
5. Visit http://hireahelper.com to hire pet friendly movers
6.Visit http://vcahospitals.com for tips on managing your pet's stress
7.Visit http://aspca.com for more tips on moving with a pet
8.Visit http://cesarsway.com to get tips on being calm and patient with your dog
9. Visit http://delongregroup.com for help finding your new home
Once you get to Phoenix, you'll find plenty of places you can take your dog. Try Uncle Bear's Brewhouse Grill,where you can hang out on the patio with your pup, or Sprinkles Cupcakes, where you can get a treat for your dog and enjoy one yourself. If you'd rather spend the day getting in a workout, take your pet to South Mountain Park, where you can hike the trails and enjoy the fantastic views, or the Farm at South Mountain,a haven for foodies.
Moving day doesn't have to be a stressful event; with the right plan and a little preparation, you, your family, and your dog can make a smooth transition to the new home. Remember to show your pet a little extra attention during this time to help him stay calm.
Thank you Medina at http://dogetiquette.info for putting these tips together for us! It was a pleasure working with you.